Ermak Brakes and Shears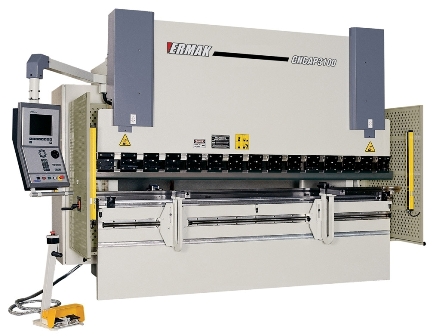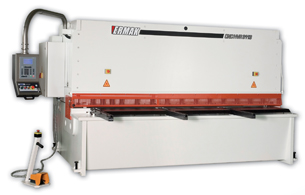 Since 1965 Ermaksan has been making sheet metal working machinery.
The following Video shows a quick overview of Ermaksan's manufacturing capabilities in their 600,000 square-foot state of the art facility employing more than 800 highly trained craftsman.
Evolution - Hybrid Press Brakes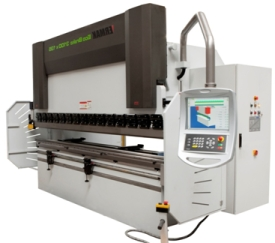 Ermak's latest addition to its press brake line will set a new benchmark in the fabrication industry. Completely developed in-house by Ermak's R&D team, this hybrid press brake features a patented servo-drive system for ram movement speeds of 475 IPM, 60% less electricity consumption compared to a conventional hydraulic press brake and nearly zero dB sound levels. Evolution is the most environmental-friendly press brake on the market creating the quickest return of investment possible.
Go Green with Ermak!
Shears
Eramak offers two Series of Shears!
CNCHVR - CNC Hydraulic Variable Rake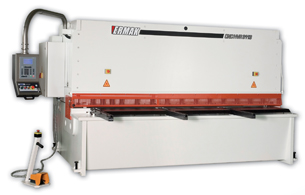 The Standard Cybelec DNC 60 Control automatically adjust blade gap, cutting angle, and stroke depth according to programmed material and thickness. No mechanical adjustments are required by the operator to go from one material type and thickness to another.
From 10' to 20" up to 1/2" Capacity (Custom Machines Available)
HGD - Hydraulic Swing Beam Shear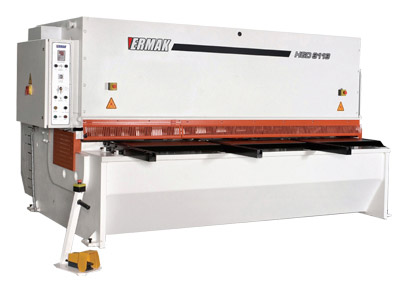 The HGD series offers a heavy duty workhorse with adjustable blade clearance and stroke length.
From 10' to 20" up to 1/2" Capacity (Custom Machines Available)
Press Brakes
Available from 4' to 40' (Custom Machines Available)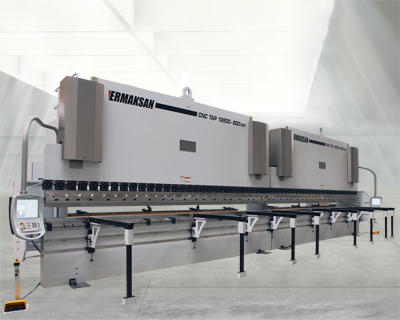 more information coming soon!
Ermak Robotic Brake
If We Can Be of any assistance or you would like additional information please
Call 817-354-4200, Fax 817-354-0723
Or Send us

Last updated - 02/23/2015